When trained properly, your bot should be able to address a large percentage of your support queries.  For those questions it can't address, you are going to want to either hand off to live chat or allow the chatter to submit a ticket.
You can easily arrange to have a transcript of your bot's conversations emailed to your helpdesk so as to generate the creation of a help ticket. As show below, in Bot Settings/Advanced/Notifications turn "Send transcript email" to On.  Also, select from the drop down menu the relevant tag you applied to the chat.  This tagging allows you to selectively send transcripts (and, thus, open a ticket) just for conversations requiring follow-up.
Under Recipients, enter your support or helpdesk email address.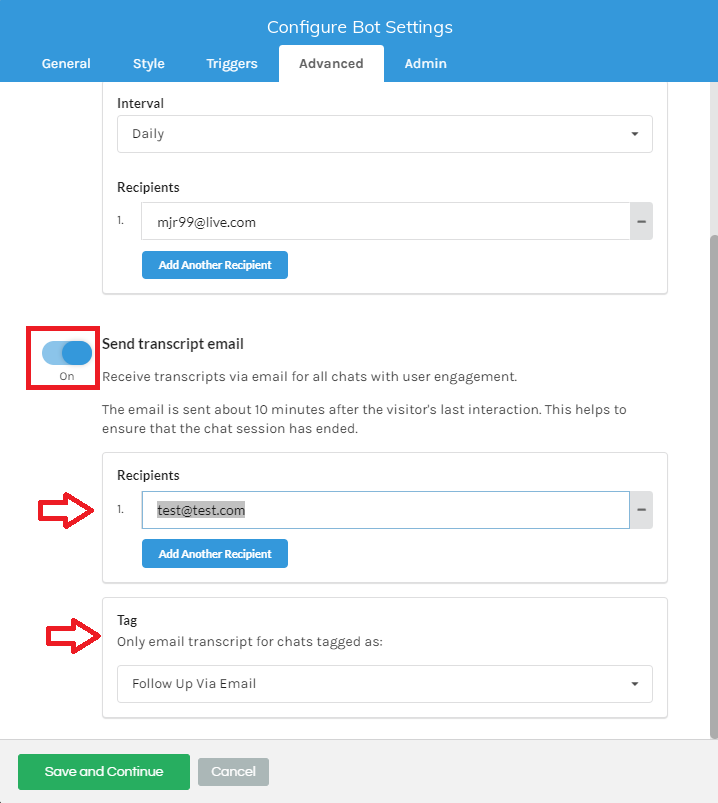 Note that there is an intentional 10 minute delay before Gobot sends each transcript to assure that the conversation has actually closed.
Note further that you may need to whitelist the following Gobot email address -  max@mg.getgobot.com  - if you are not seeing tickets created in your helpdesk as they may end up in your junk or suspended folder.
Copyright 2020, Gobot LLC, All rights reserved.