How do I change the language of my chatbot?
Gobot is used globally! In order to make sure your bots run in your desired language click on the Language tab in the Bot Settings page under the Advanced tab.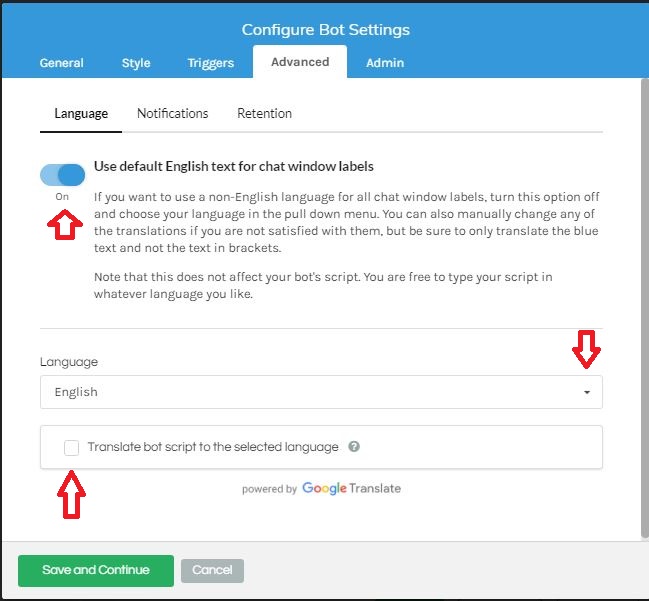 You can type your bot script in bot build mode in whatever language you like (choose your language of choice in your computer operating system).  If you are starting with a bot that is already in English, e.g., a Gobot template (all Gobot templates are in English), and you want to translate it into a different language all you need to do is select "Translate bot script to the selected language" option under the Language tab in the Bot Settings page.  This setting also allows you to translate a bot you have scripted into another language.
Gobot's chat window default language is English. If you plan to script your bot in a different language, turn off the "Use default English text..." toggle in the Language tab and choose your desired tongue from the language drop down menu.  In the example below, we choose French.  While you will still need to change your language settings in your operating system to type your bot script in your desired language, taking the above step will automatically translate all chat window labels, e.g., "Conversation with...", to match your language of choice.  You are free to tweak the translations as you see fit but make sure to only change the blue text (not the text in the brackets).
As shown in the image below, after choosing French for our bot language, a list of all bot chat window headers are listed and automatically translated into French.  You can tweak the machine translation to your liking but make sure to only translate the blue wording and not touch the language between brackets.  Typically the machine translation does a good job but we list all of the header and other "built-in" text your bot uses in the Language tab (upon the selection of a language other than English) to give you an opportunity to tweak the translation to your liking.  In the example below, the word "with" is automatically translated to "avec" after choosing French in the language drop down menu.  If you are ok with this translation just leave it as is.  Your bot header will ultimately show "Conversation avec Dave" if your website visitor enters his name as Dave.  The same applies to all other header and "built-in" language your bot uses (not shown in the image below but accessible by scrolling further down the Language tab).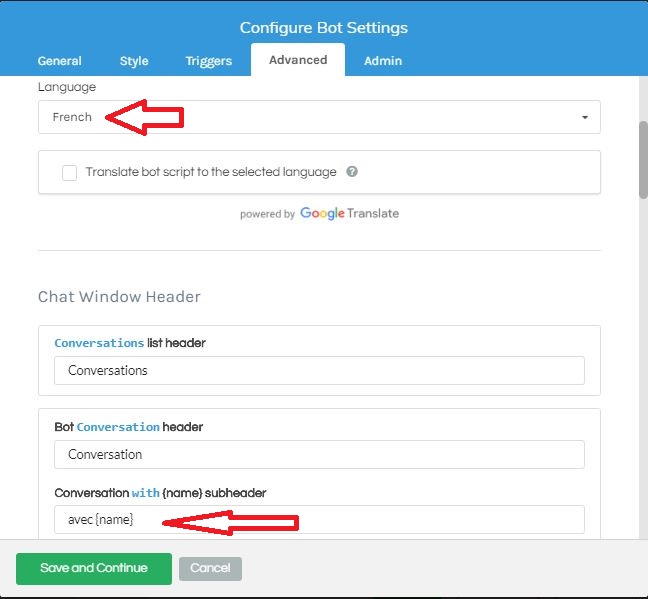 KNOWLEDGE BASE
Note that your visitors are also provided the option to translate your Gobot knowledge base.  So, write your articles in whatever language you prefer.  When your visitors interact with your bot and are presented with knowledge base articles they can choose their language of choice and read the article in their native language.
Copyright 2017-2018, Gobot LLC, All rights reserved.