Leverage Gobot's Shoppable Quiz functionality to improve your Shopify store's sales and opt-ins.  We also refer to this functionality as our product finder and conversational search functionality.
Your chatbot can present questions to your customers so as to understand their needs and what they are looking for and then return curated product recommendations. This functionality is great for boosting your opt-in rate (email and SMS) and is especially useful when you have a large product offering or a complex one. 
These days, given the expansion of choice and complexity of product options, even choosing a bicycle or a mattress can be a true challenge! By reducing the work your shoppers need to do to find the right product you will boost sales in a real way.  
Further, given the low conversion rate of traditional popups, we suggest you use your engaging and fun Shoppable Quiz to  boost your email and SMS opt-ins. Plus, and perhaps the best feature of your Shoppable Quiz, is the amount of useful data it collects about your shoppers and seamlessly passes, via tags, to your favorite email and SMS marketing platforms.
As they say, a picture is worth a thousand words so let me show you what it looks like on a Shopify store.  If you are looking to implement a Shoppable Quiz, you can find more implementation detail here.  This article is focused more high level on general functionality.
The store below offers a rather large and complex product line of filters and water softeners.  A shopper can click the Gobot widget in the lower right hand corner to trigger the site's general chatbot, which collects call back requests and site feedback, provides order status updates, and much more.
This store also implemented Gobot's Shoppable Quiz to help shoppers find the right product to fix their water.  Note the banner with the call to action "How can I fix my terrible water?" towards the middle of the screen. Upon click of this button a different chatbot with a Product Finder appears and guides shoppers to the right product.  You can learn about triggering a quiz from an embedded button on your screen here.
Here's a funner example, a bike store.  Rather than a banner with a call to action they have a Gobot "HELP ME FIND THE PERFECT BIKE!" widget towards the bottom of the screen.  You'll note right away the variety of choice and the faceted search functionality on the left side of the screen.  Do I want an alloy frame or a steel frame? Not sure.  That's one reason to implement a Shoppable Quiz!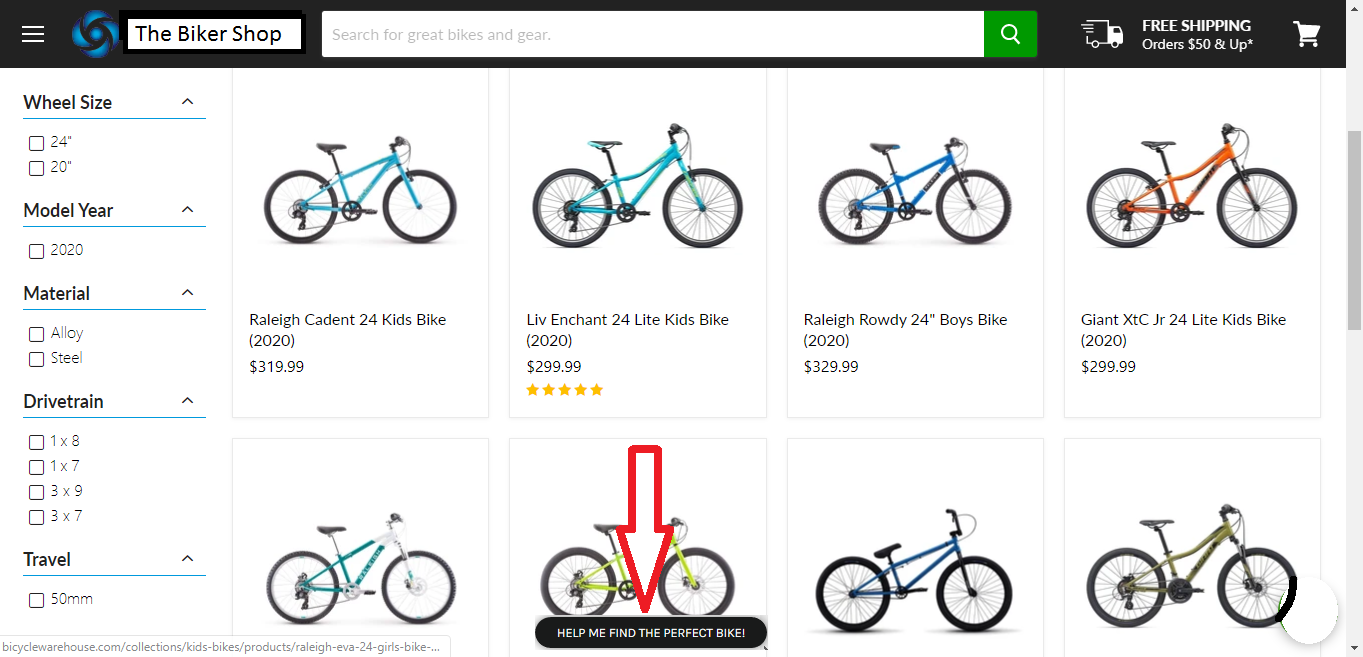 Upon click of the widget, the chat window expands.  This bot was set up to offer multiple options, one of which is the Shoppable Quiz for those shoppers that want to be guided to just the right product.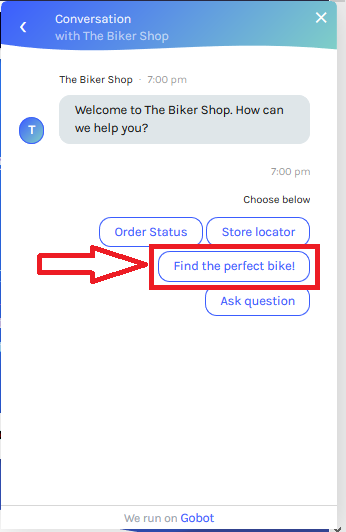 Upon selection of the "Find the perfect bike!" choice, the chat script starts the Shoppable Quiz, as shown below, and ultimately outputs bicycle recommendations based on the answers provided the shopper.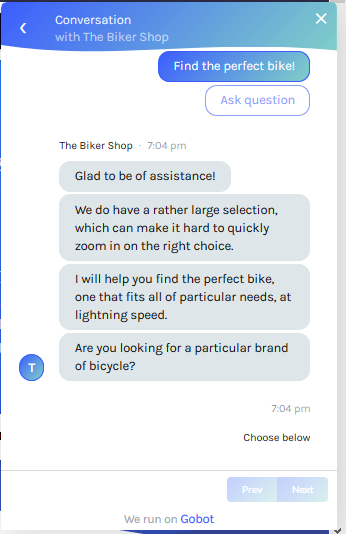 Note the Previous and Next buttons at the footer of the chat window.  With these buttons, shoppers can effectively change their responses and also skip ahead if they are short in time.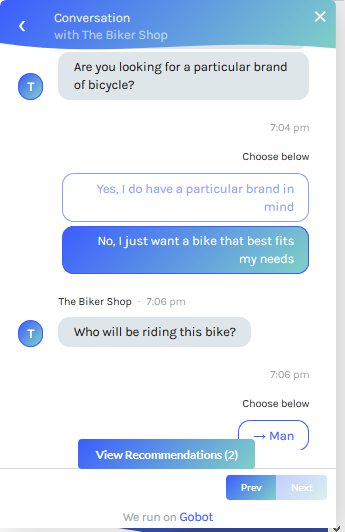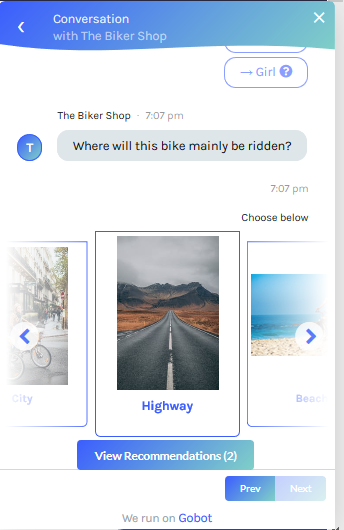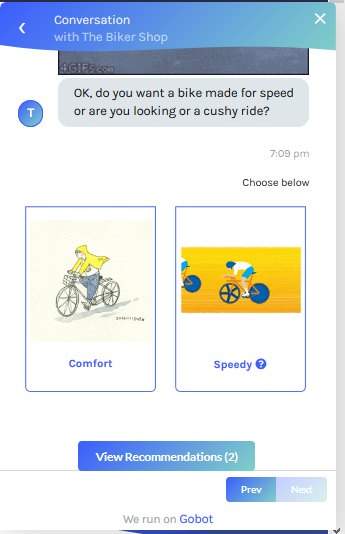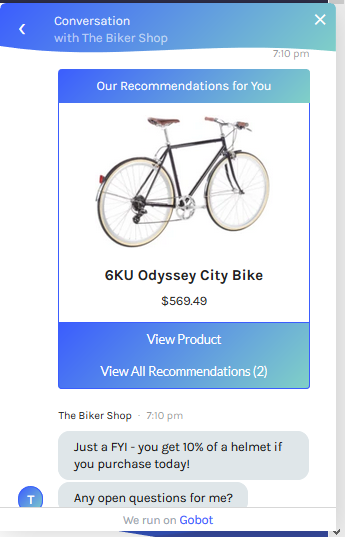 Clicking on the View All Recommendations button reveals all of the recommendations, as shown below.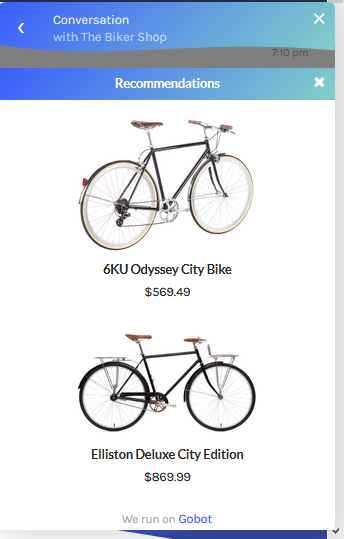 The Recommendations output at the end of the Shoppable Quiz include product from your Shopify store that meet your shoppers requirements based on their responses.  Learn more about how Gobot arrives at these recommendations here. Note that with Gobot's deep Shopify integration, the product recommendations can be set to change automatically as you change or update product in your store.  In other words, you do not need to update your quiz each time there is a change in your store - Gobot can do that for you automatically so your recommendations are always current.
You'll note that a Recommendations tab appears during the conversation.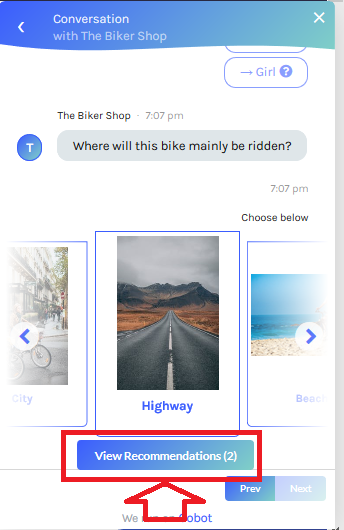 At any point, a shopper can click on this Recommendations tab to see what recommendations the store has for him or her based on answers provided up until that point of the conversation.  This tab is optional and can be hidden in the quiz settings.  We think it is especially useful when you anticipate your Shoppable Quiz having a rather long string of questions. The tab gives instant feedback as to how a shopper's responses are narrowing the pool of appropriate recommended products, and reduces shopper drop off.
Now that you see how great the Shoppable Quiz is, and the amazing things it can do for your store, click here to learn how to get it set up. 
Gobot Copyright © 2020