How do I prove compliance with privacy laws when using my chatbot?
Use Gobot to facilitate your compliance with privacy laws, including but not limited to, Europe's privacy regulation GDPR. Complying with global privacy laws can be very complex and costly if you get it wrong.  Gobot is the tool you have been waiting for!
You can find Gobot's Consent Log in Settings mode, which is accessible by clicking on the gear icon in the navigation bar and then clicking on Consent Log.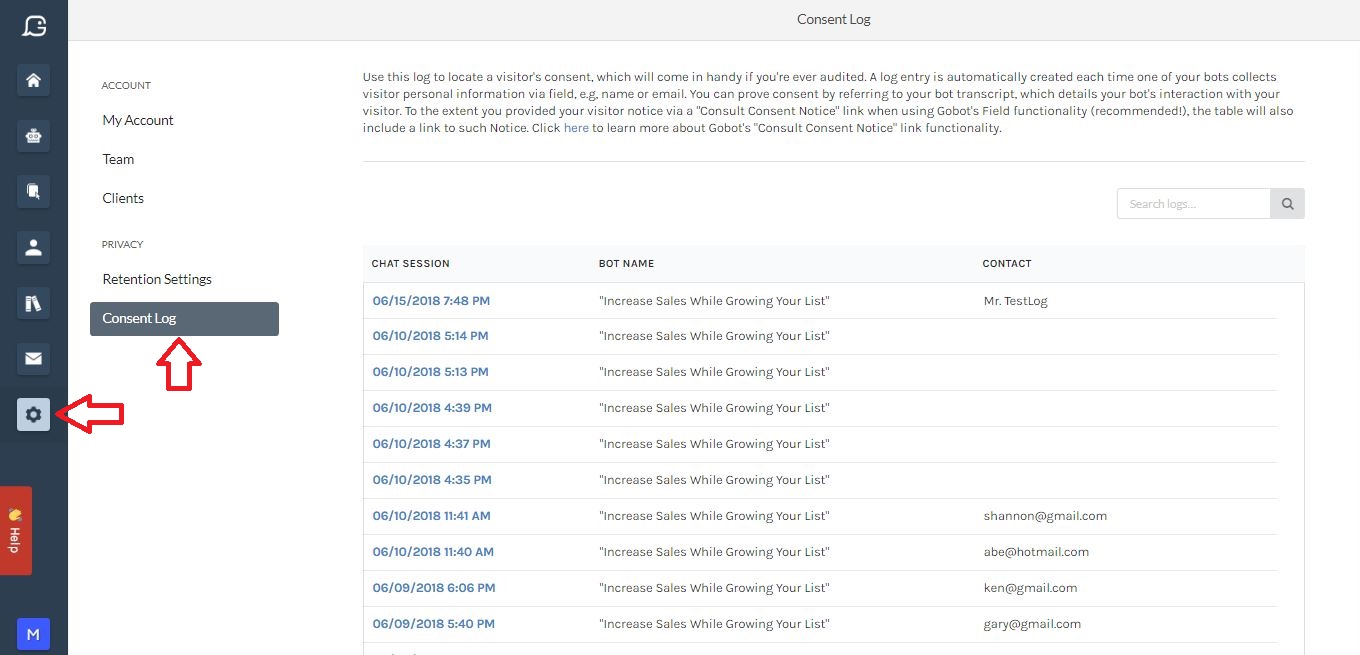 Use Gobot's Consent Log to locate a visitor's consent, which will come in handy if you're ever audited.  Imagine a scenario where your bot collects an email address, which triggers one of your email campaigns.  If the recipient of the emails complains to the authorities on the basis that you were effectively sending spam, this may trigger an audit of your marketing practices.  Assuming you used Gobot's Notice functionality, in this situation all you would have to do is search your Consent Log to access the interaction with your bot when you collected this particular visitor's email and show the authorities that you did in fact receive the visitor's full consent when collecting her email.  Gobot provides for full traceability!  Given the legal exposure under certain privacy laws, it is critical in certain jurisdictions that you provide notice and log your consents!
A log entry is automatically created each time one of your bots collects visitor personal information using a field, e.g, name or email. You can prove consent by referring to your bot transcript, which details your bot's interaction with your visitor. To the extent you provided your visitor notice via a "Consult Consent Notice" link when using Gobot's Field functionality (recommended!), the table will also include a link to such Notice. Click here to learn more about Gobot's "Consult Consent Notice" link functionality.
As show below, clicking on any one of the log entries will reveal the personal information collected during that chat session and the type of notice provided to the visitor interacting with the chat.  If the Gobot notice functionality was enabled when collecting the visitor's personal data, a black View Notice button will appear in the log, which upon click will reveal the entire text of the notice provided to the visitor when he or she volunteered his data.  If this View Notice button is not in the log that doesn't necessarily mean that sufficient legal notice wasn't provided.  Click on the View Chat Transcript button to review the transcript as it is possible that notice was sufficiently integrated into the bot script itself.
Privacy laws create serious legal exposure.  Use Gobot's privacy features to help keep you on the safe and narrow!  If you are ever audited or accused of violating a privacy law, rely on Gobot's Consent Log to help prove your innocence! 
DISCLAIMER:  
This website is not intended to provide legal advice.  You should not rely on this website for such, nor as a recommendation as to a particular legal understanding. Our goal is to provide background information to help you understand how Gobot has addressed some important legal points.  This information is not the same as legal advice where a lawyer applies the law to your particular circumstance.  Therefore, we suggest that you consult a lawyer to seek assistance in the interpretation of this information including its accuracy.
Copyright 2018, Gobot LLC, All rights reserved.