You are almost there! A few quick steps and Gobot will be up and running on your Shopify site. You only need to complete these steps once and Gobot will be able to run on all the pages of your Shopify site.
If you found Gobot in the Shopify apps directory and already downloaded Gobot within Shopify, there is no need to repeat these steps. If you signed up for Gobot outside of Shopify you will need to follow these steps to install Gobot on your Shopify site:
Step 1: Login to your Shopify website (you will see the admin panel on the left hand side of the screen).
Step 2: Click on Apps in the admin panel, and click on Visit Shopify Apps Store button in the upper right corner.
Step 3: Search for Gobot in the app directory by typing "Gobot" in the search field towards the upper right corner of the screen, and click on the Gobot search result . Alternatively, you can find the Gobot Shopify directory listing by clicking on this link: https://apps.shopify.com/gobot-1
Step 4: Click on the GET button in the upper right corner of the Gobot directory listing. This will link you to the install page.
Step 5: Click on the Install app button towards the bottom right corner of the screen. This will link you to your Shopify admin page.
Step 6: Click on the Connect your Gobot Account button.
Step 7: Enter the requested information in the Gobot signup form.
Your Gobot is now officially connected to Shopify! Go to your website to confirm that your bot loads as expected.   Every time you change your bot you will need to click Publish in bot build mode.
If your bot is live and you want to turn it off, simply click Pause Bot in the bot builder, as shown below.
SET THE URL(s) WHERE YOU BOT WILL APPEAR:
The Gobot snippet will automatically be added to all of your store pages (except checkout). You can control where bots run by adjusting their URL under Bot Settings, as shown below. By default, bots are set to run on any page. However, you can change this for each bot by configuring or excluding specific URLs.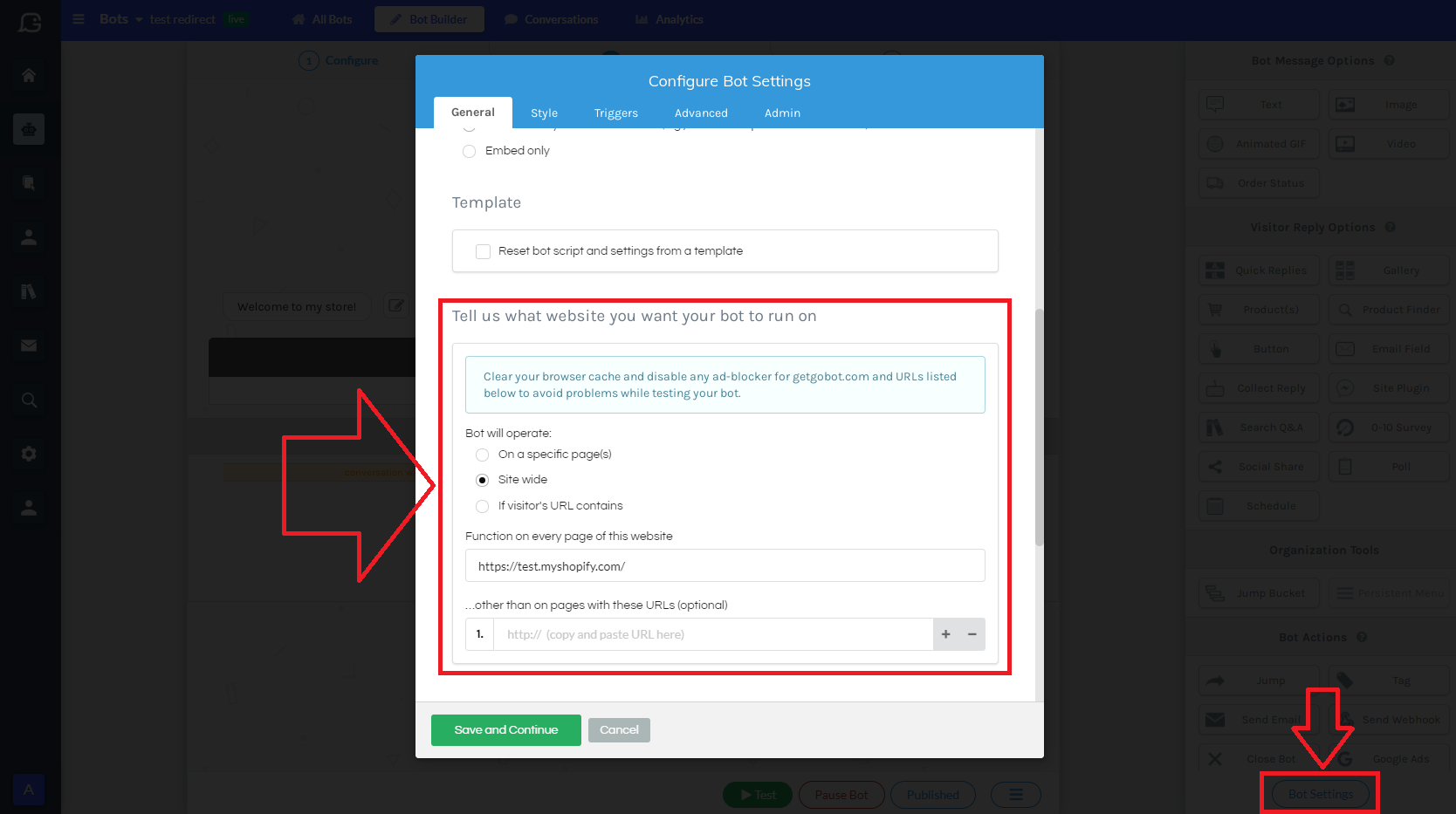 CONTROL OVER  PAGES WHERE GOBOT CODE SNIPPET IS LOADED:
If you don't want to load the Gobot code snippet on all of your pages (default installation mode), you can change this such that the Gobot code snippet appears only on select pages. Click here for manual installation details.
Copyright 2017-21, Gobot LLC, All rights reserved.