Our referral program is for registered members who have made purchases at our store. It is a way for our current members to benefit from referring their friends and family members to the site, who also receive an incentive for visiting. 
To take advantage of our referral program, simply sign up for a free account on our site. After completing registration, you can receive your 'personal link' via the loyalty program widget located on the bottom left corner of the webpage. 
Once a friend or family member visits our site through your unique link, a pop-up box will appear on the bottom left corner of the webpage as shown below.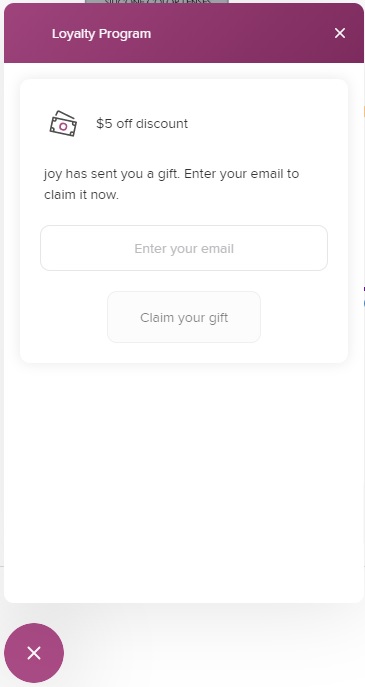 After your referral clicks the 'claim your gift' tab, a coupon code will arrive in his or her inbox. If your referral completes an order and makes a purchase, you will be rewarded with 500 points, which can be exchanged for a $5 off coupon. 
*Note
Customers who abuse the program as In the following cases, will be subject to being blocked from participating in the program along with their referrals. 
1. Generating a coupon code  with your own link and making a purchase 
2. Using a fake email address to generate a coupon code
3. Any fraudulent use or unfair use of the program